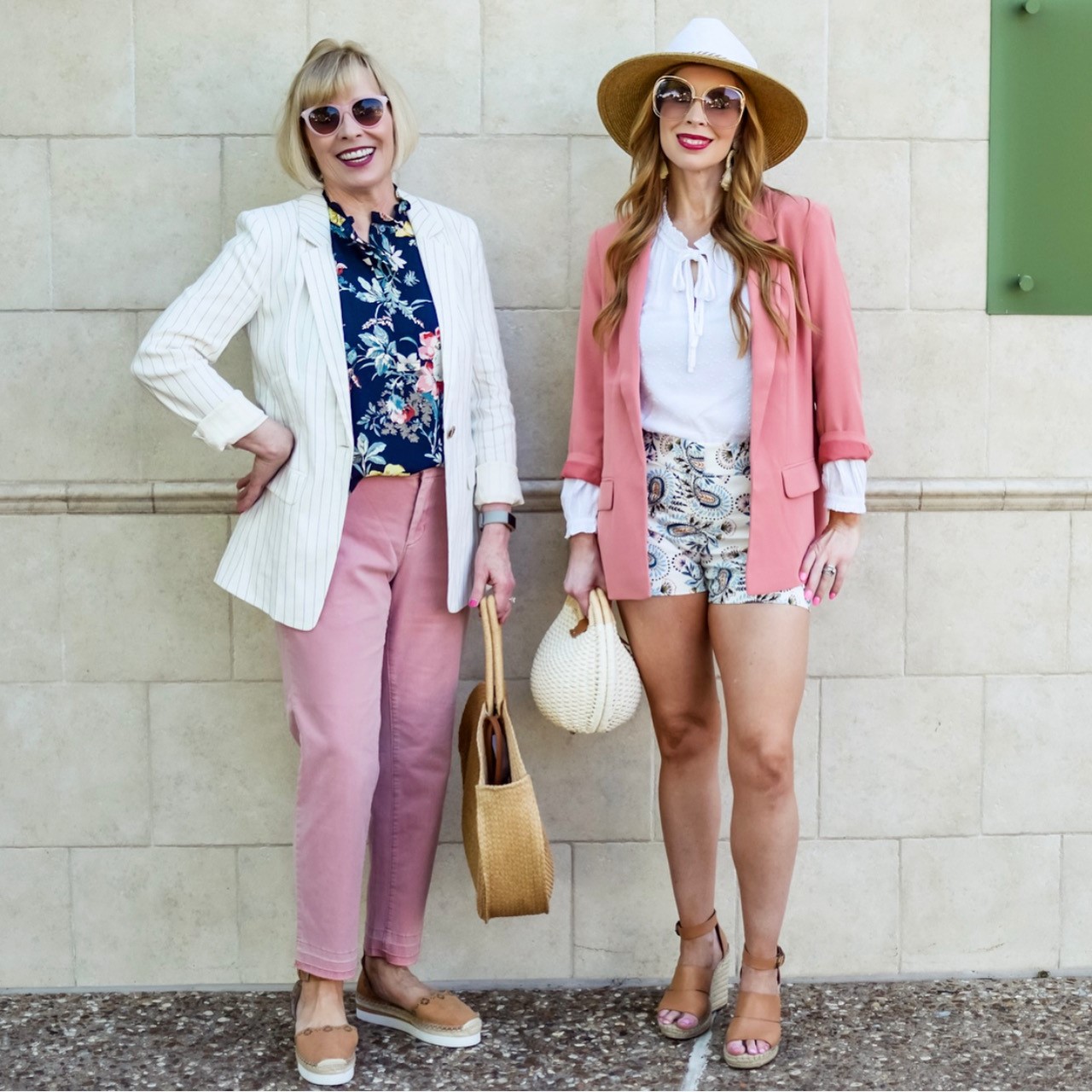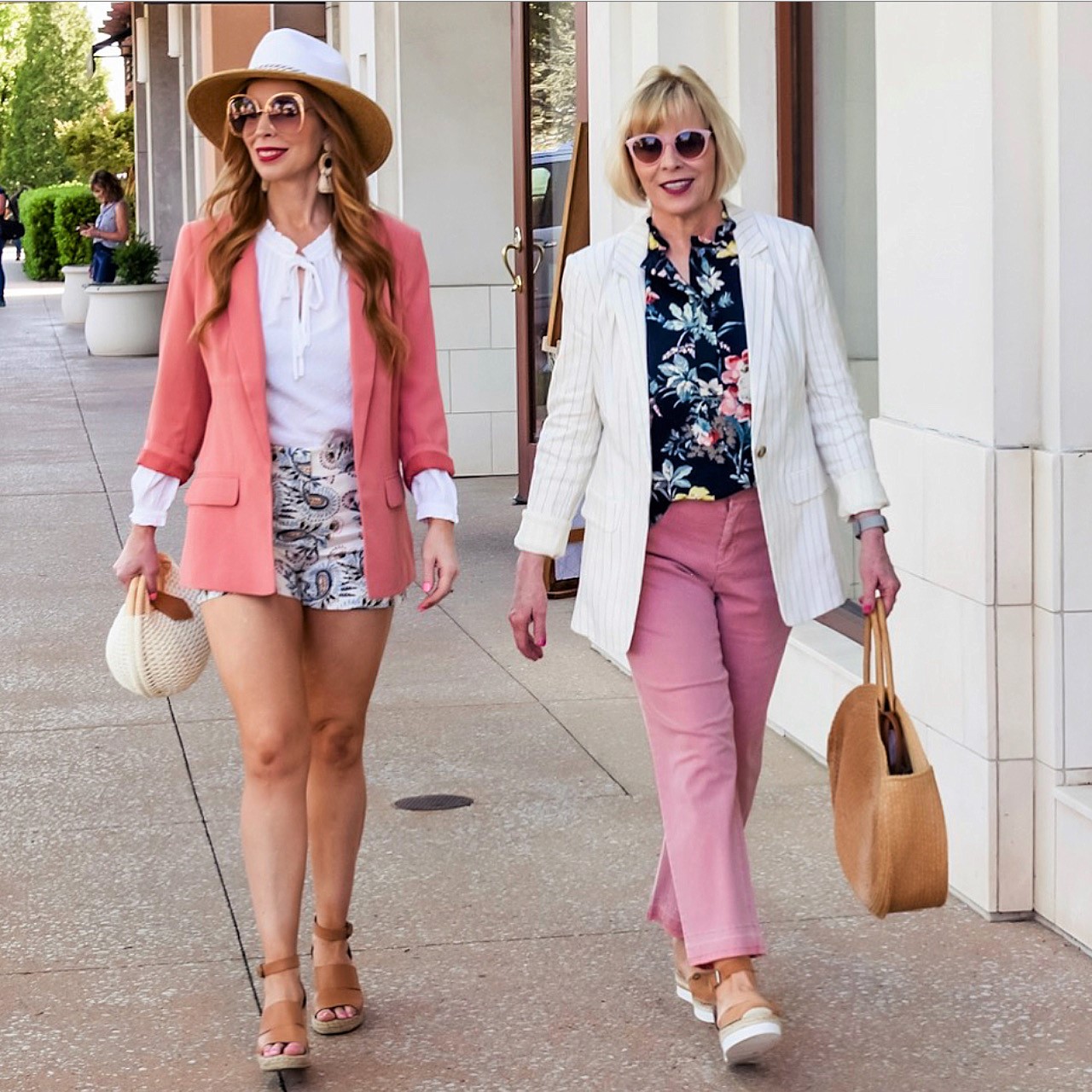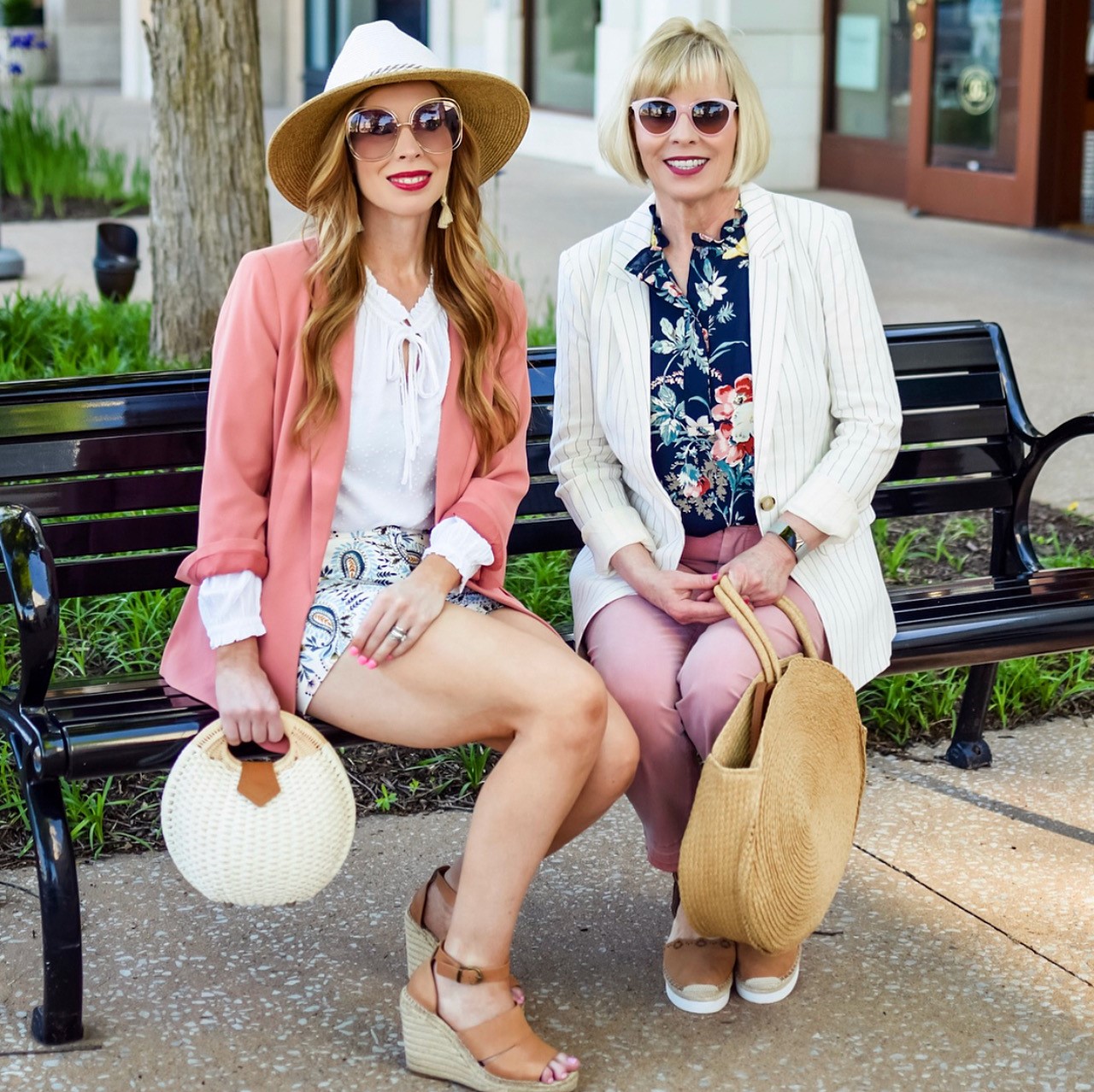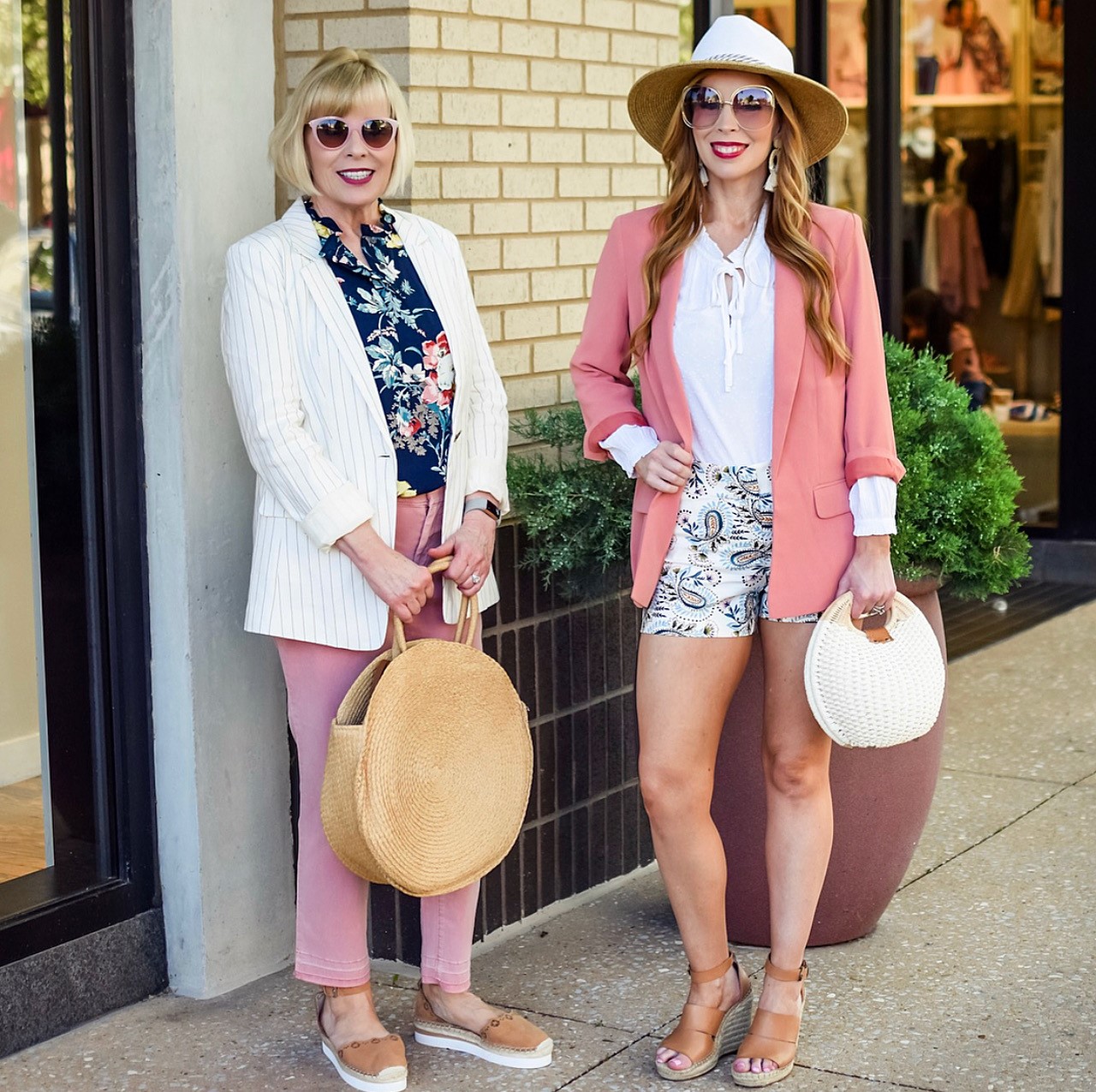 I can't believe Mother's Day is less than a week away! I recruited my mom to do this blog post with me.  She was such a good sport!  She let me dress her and she did a photo shoot with me which is NOT her thing.  But seriously, doesn't she look amazing? I won't share her age, but just believe me when I say, you would NEVER believe it.   We are both wearing outfits from "Loft".  Their clothing is chic and timeless and works for both of us even though we are twenty something years apart!  I love pink, so I styled both of us in complimentary shades and you can never go wrong with a classic blazer!  Our outfits are currently 40% off too! Throw on some cute sunnies and a straw bag and you are set!
Shop our outfits

I'm sure you think the world of your mom just like I do!   I am rounding up some last minute gift ideas that ship prime and will arrive in time for Mother's Day!  I would LOVE to receive any of these and I'll keep my fingers crossed that my hubby will read this post!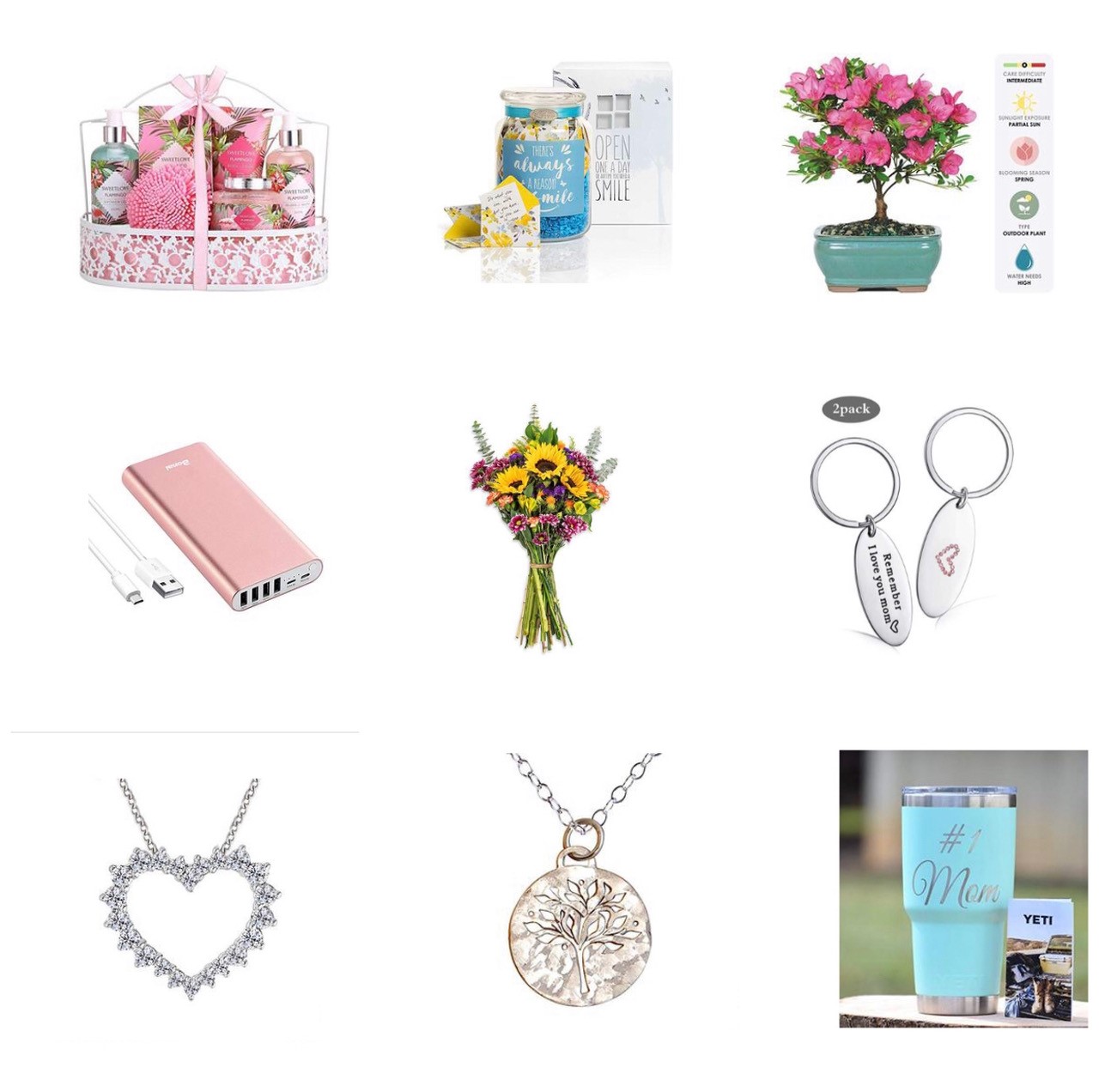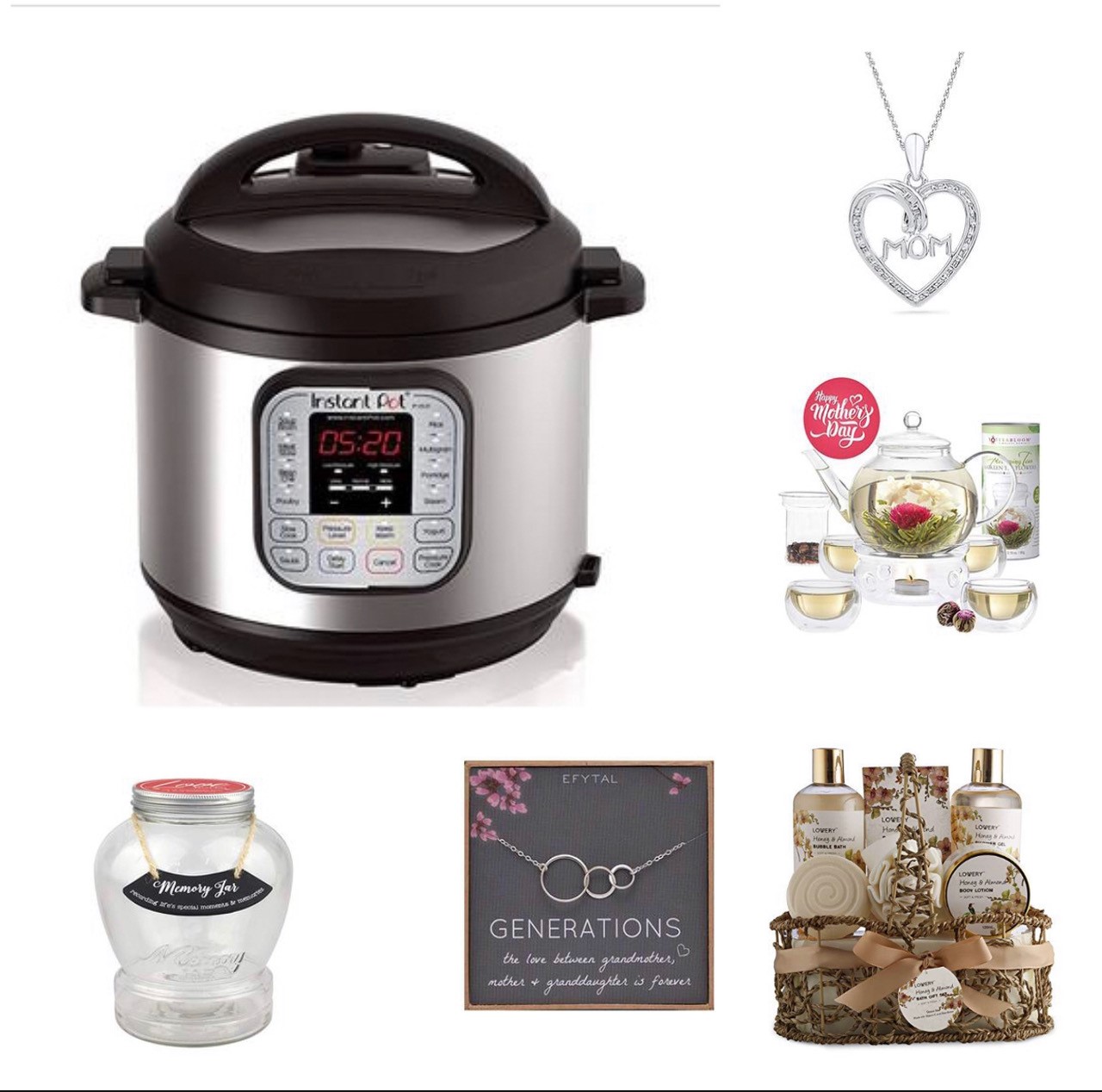 Finally, I want to share the most important things I've learned from my mom.  Moms set the example and are so instrumental in who their children become.  It's a HUGE responsibility isn't it?  It is one I will never take lightly.  I am so grateful for all that my mom taught me and I pray that I will pass these values on to my own children.
God and Faith should always come first.  Everything in life is uncertain. People, jobs, money, friends, they all come and go. The ONLY thing that is constant is God and his faithfulness! I am so thankful my mom taught me this! This mindset has helped me so much over the years!
The more you do for others, the happier you will be.  In other words, be a servant.  Nothing does my heart good more than knowing that I did something kind for someone else.  Do I do it enough? No, but putting others before yourself brings a sense of joy and contentment like nothing else!  If you are feeling down, take someone a coffee, or send them a nice text.  If you are feeling less than content, volunteer for a couple of hours.  It REALLY is true and I am so thankful that she taught me this!
Take care of yourself and look your best.  My mom is such a pretty lady and always has been.  As a kid, I remember she always had her hair fixed and lipstick on. She watches her weight and takes care of herself.    Is it the most important thing? NO.  But when I put on makeup, fix my hair, and put on a cute outfit, I feel so much better than when I'm looking slouchy.  I have more energy, get more accomplished, and just feel better.  It also affects how I interact with others because I am more confident.  Oh and it's nice for my husband too!
I know she has taught me so much more than these few things, but these stand out to me the most! I am so thankful for a Godly example and I can't thank her enough.  I hope you all have a wonderful Mother's Day with those that you love.  What do you appreciate the most about your mom?
XOXO
Emily