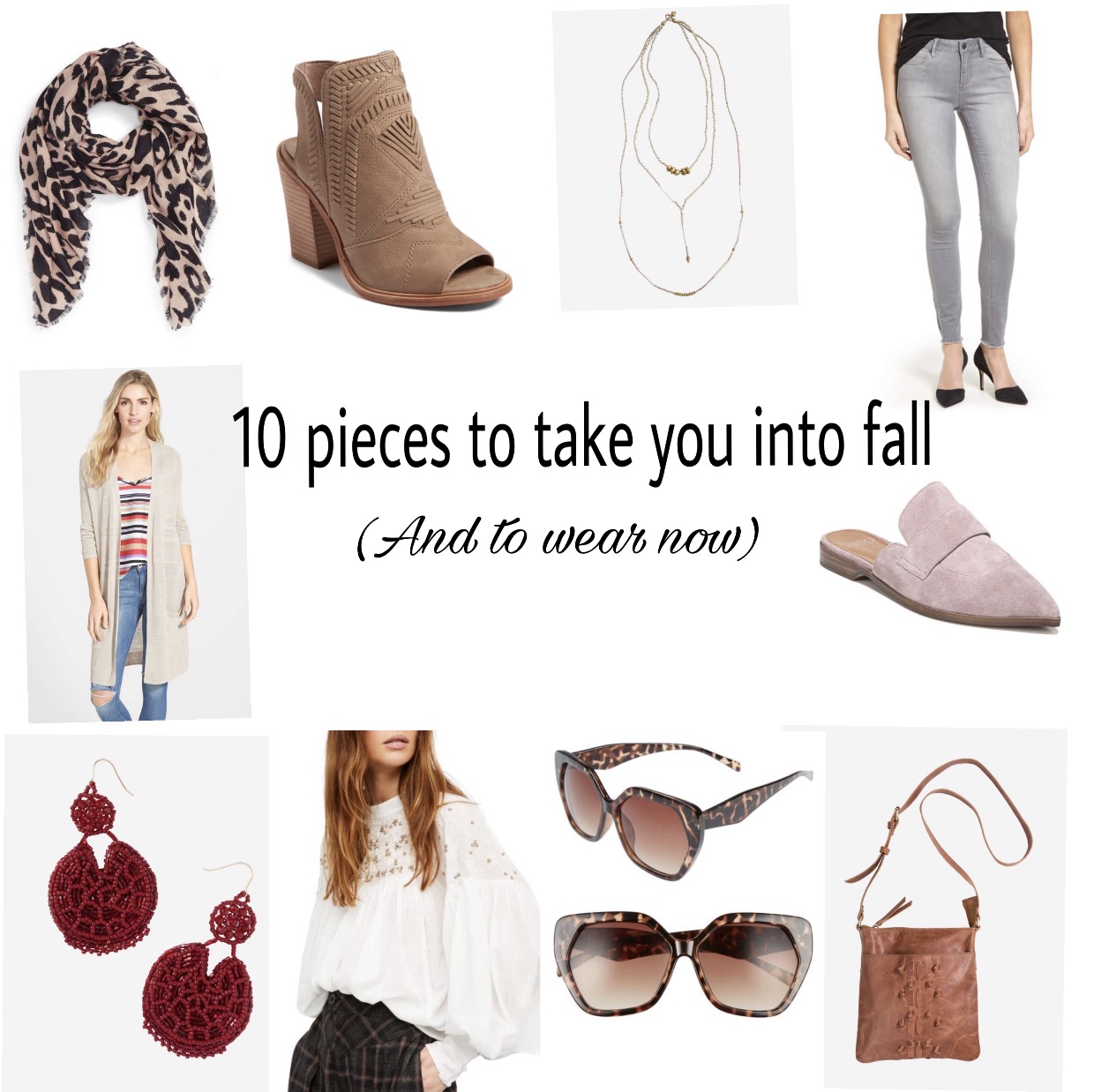 Transitioning from summer to fall is always a tricky time in the wardrobe department.  It's still warm outside, but school is in full swing and it doesn't really feel like summertime anymore.   I thought I would share some key pieces I am currently wearing and how I'm wearing them now (and how I will wear them later on)
Leopard print scarf– I love this scarf because it is light weight AND it's only $19!  Throw it over a black tank or white t-shirt for now and layer with a heavier cardigan once the weather cools off.  Leopard is neutral and goes with everything.  This is an accessory that will immediately pull your outfit together in literally 5 seconds!
Peep toe bootie– This is the perfect transition shoe!  It's not time to pull out the uggs yet, but you have already put your espadrilles away for the season.  They are perfect with jeans, dresses, and can we just talk about this cognac color?  It literally matches EVERYTHING!!
multi-layer necklace–  Layering necklaces is one of the biggest jewelry trends.  I love how this one is just one piece, but appears to be several! Yay for simplicity.  It has silver and gold tones, so it will work with everything.
Gray denim (raw hem is a plus)–  Gray denim is all the rage for fall! I love how it adds a richness and a fall hue to your outfit.  Gray is just as versatile as blue denim and will go with everything.  Another fun detail that is popular for fall is the raw hem.  It just adds a fun little detail to your jeans. I especially love it with a strappy sandal.
Long, lightweight cardigan– I absolutely adore this cardigan because it is lightweight.  I am wearing it now with a tank and cutoffs because restaurants and many other places are freezing.  I will wear it in the fall with a scarf (most likely the leopard one), jeans, and booties. It also comes in several colors and I am tempted to order more!
Blush suede mules– Blush is huge for fall!  It is usually more of a Spring/Summer color, but I love that it is carrying over to fall! These shoes are a great neutral and will work with practically everything!
Statement earrings-Statement earrings can totally pull together your look!  For the summer I've been wearing fun tassel earrings in bright colors, but just darkening up your accessories a bit will make your outfit seem more "fallish" if that's a word.  I love the red color of these earrings.  They are perfect for Razorback games here in Arkansas, holiday, and even Valentines day.
White peasant blouse–  There is just something fresh and effortless about a white peasant blouse.  It works for any season.  I am wearing this exact top with denim cutoffs and sandals now, but how cute will it be with jeans, booties, and a leather jacket.
tortoise/dark colored sunglasses– I love wearing darker colored sunglasses in the fall!  And these are soooo cute and only $12!!!!
Leather Crossbody– I absolutely LOVE this crossbody.  The leather is amazing and it is the perfect size. I love having a smaller option than my usual huge mama purse lol. This looks cute with every single outfit and perfect for year round use!

And my favorite fall accessory………. a wool hat!! I LOVE hats and wear them 2-3 times a week at least.  They are a major time saver for me because I don't have to fix my hair! Throw on a neutral wool fedora hat and instantly you look pulled together.  I don't really understand it, but I always get compliments when I have on a hat!   Shop my faves here!

I hope theses tips help you get through the transition a little easier!  They are all super basic and can work for everyone!  What are your go to pieces for fall?  As always, thanks for reading!
XOXO
Emily