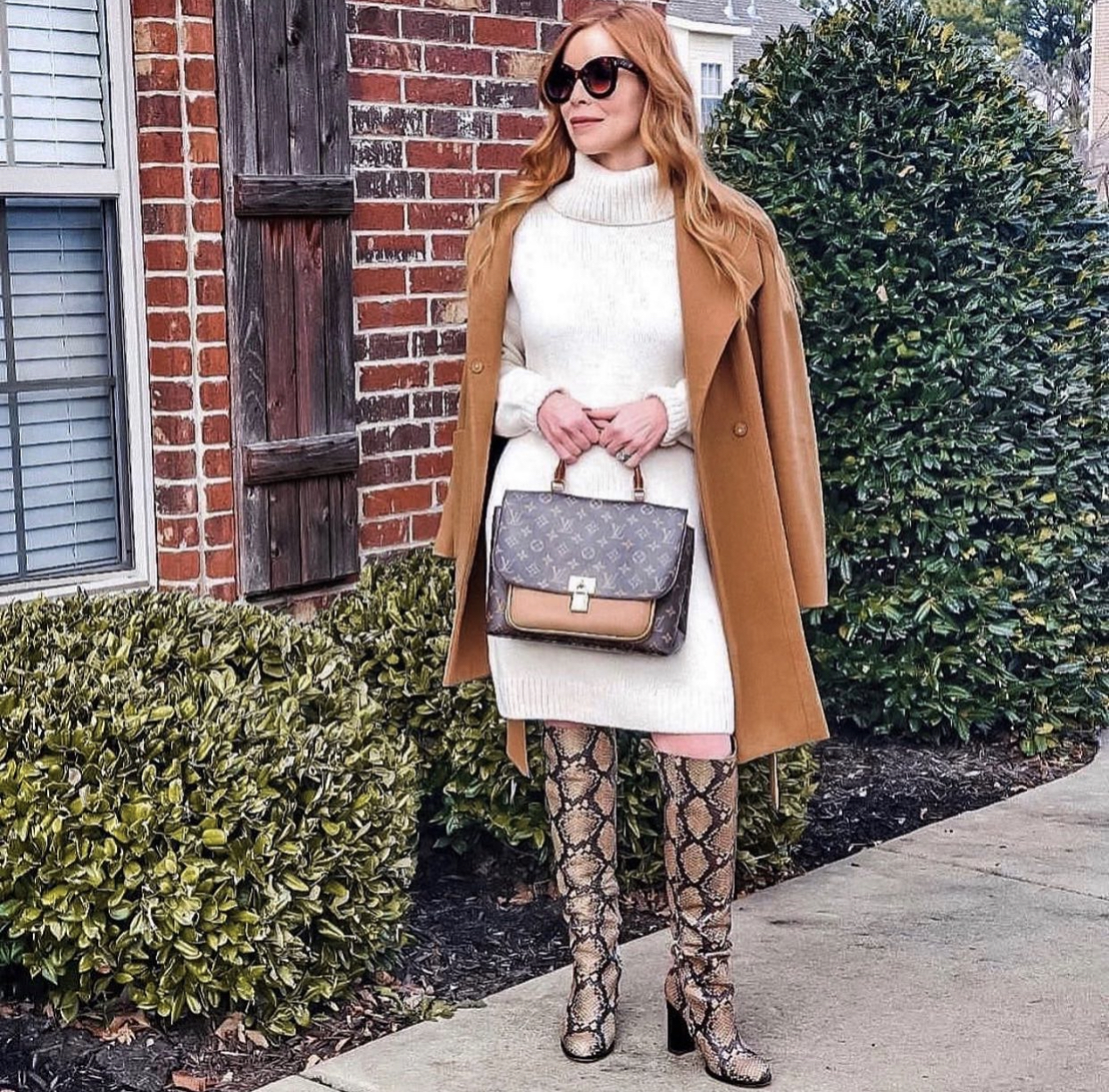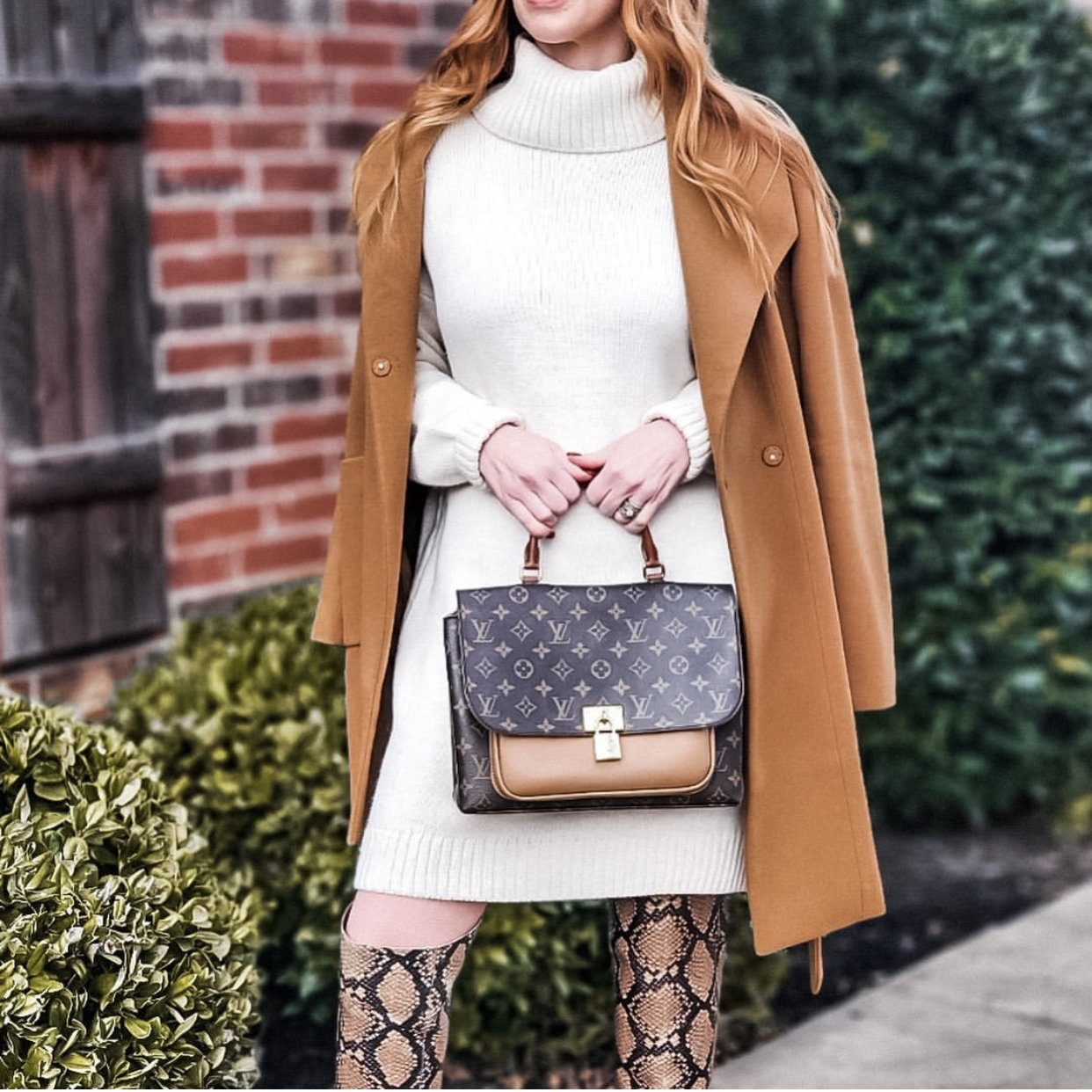 "I don't have anything to wear"! We have all spoken those words at some point.  I've learned over the years that investing in classic wardrobe staples alleviates this exact problem.  Functional, timeless pieces that mix, match, and can be styled multiple ways.  Then each year, I mix in a few trends to update my wardrobe and keep it current.  For the most part, I stick to the classics though.  Trends come and go quickly and I get bored easily.  And let's face it, I'm not exactly a spring chicken anymore.  Many of the trends aren't designed with a 43 year old in mind!  So, here are my 10 winter must haves that will give you lot's of mileage and last for years to come!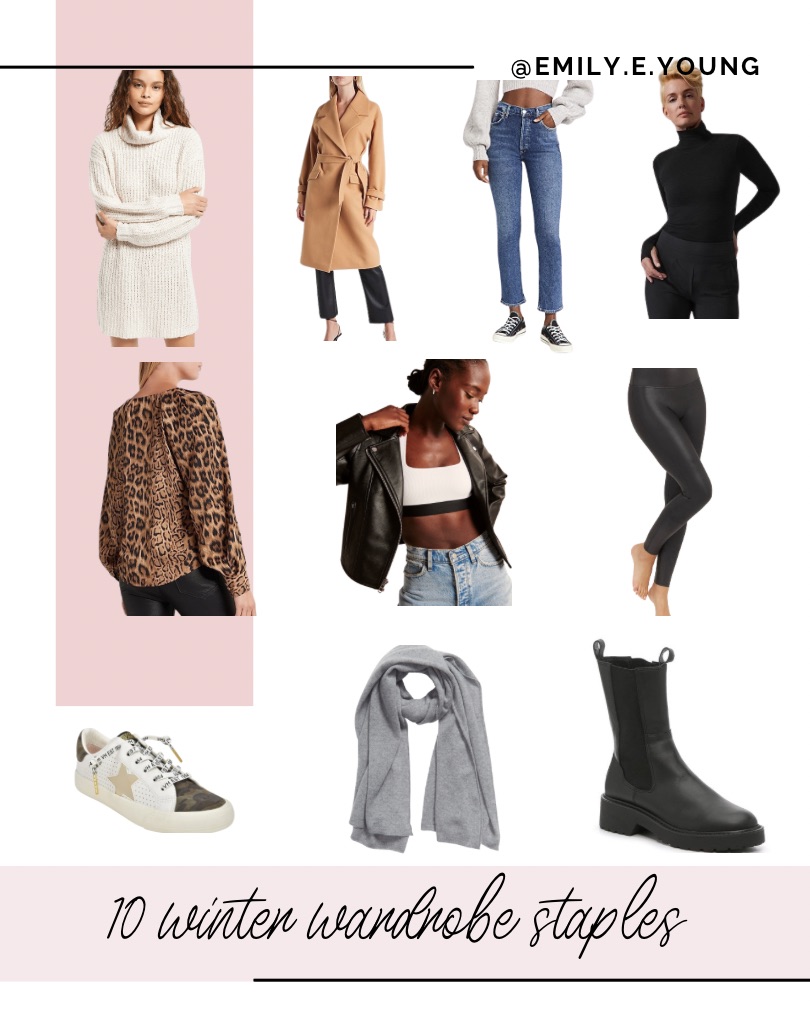 (Shop this picture HERE or click each item below)
A sweater dress– the perfect layering piece! Looks good alone or under a jacket, with a scarf, the option are endless
A Wool Coat  -timeless and classic in a neutral color.  Goes with literally everything, dressy, casual, and will never go out of style
Straight leg jeans– straight leg jeans are universally flattering and currently the most up to date cut.  They look great with a variety of shoe types and can be styled so many different ways.  These will be around for a while!
Fitted Black Turtleneck– This is one of the building blocks of my wardrobe. I wear this so much that I have several.  You can wear it under anything! If you don't like turtlenecks, grab a fitted black tee.
Black Leather Moto Jacket – Another item I wear non stop! Wear them over sweaters, dresses, or a graphic tee.  I even wore mine with sequin pants for an evening look! Endless options!
Something Animal Print- Animal print has stood the test of time! I swear I've been wearing it since high school.  Whether its an animal print blouse, bag, scarf, or shoe, it creates immediate interest to your outfit.
Leather or coated leggings-I wear mine at least once a week! Such a great basic! They really "hold you in" and give your booty a lift! It's a win, win!
Statement Sneakers- A fun pair of sneakers goes a long way! I love that you can wear them with literally anything! This particular pair has the cutest details and they are very affordable!
Cashmere Scarf– A cashmere scarf instantly elevates your look! And cashmere feels like a million bucks! I found a great deal on this one and it comes in lot's of color options!
Chelsea Boots- This is my trendy piece for the season! They actually pair very nicely with some of my classic pieces.  And this pair isn't overly chunky which makes them more streamlined.  They are under $100!
I hope these tips help you build a functional, timeless wardrobe! What are your must have wardrobe staples? I'd love to hear.  Thanks for following along and please subscribe to my site if you haven't already!
Emily