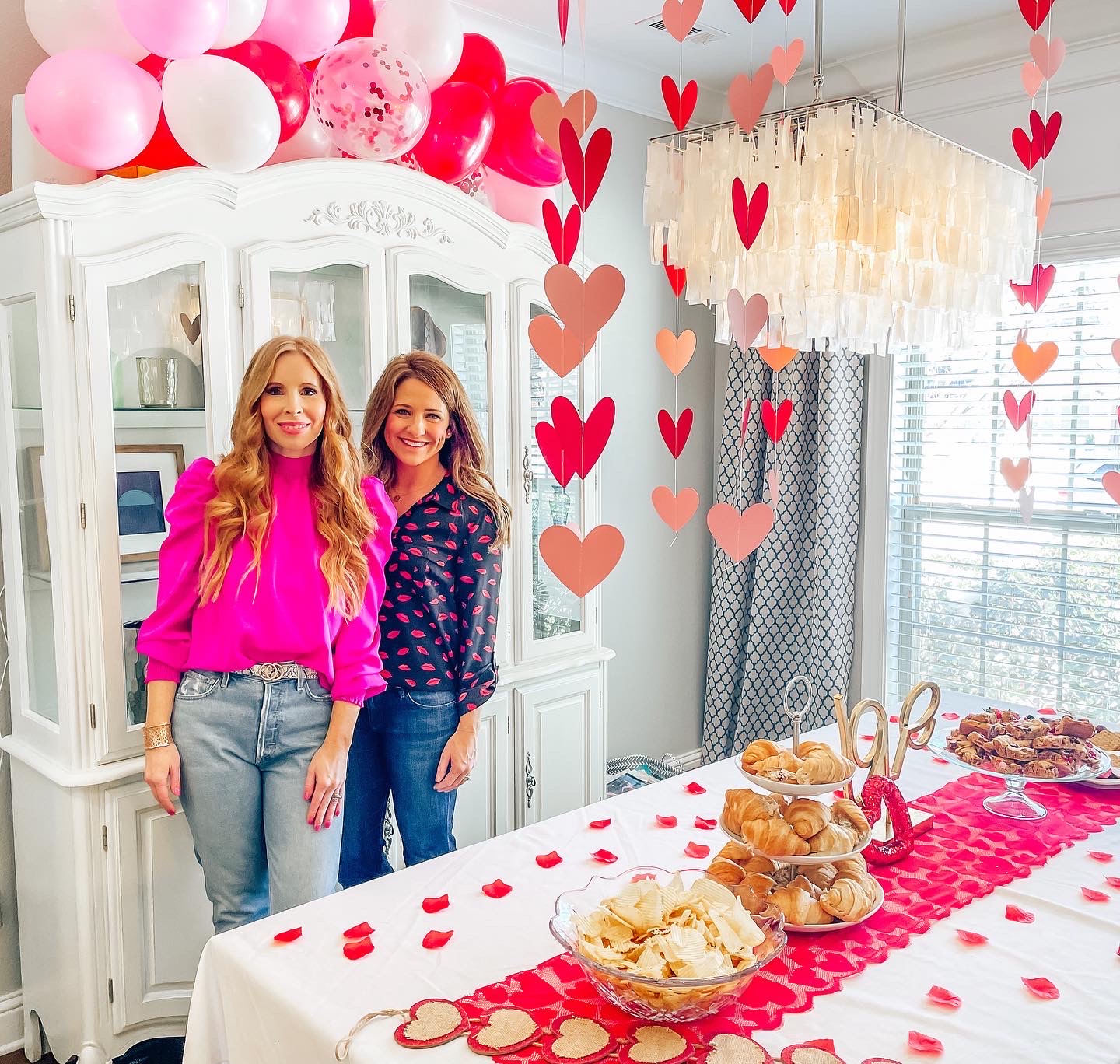 This past weekend I hosted a Valentine's Day Party for my church small group and it was so much fun!  My friend Suzanne and I planned it together! I'll take any excuse to decorate my house pink and red, eat girly food, and hang out with an amazing group of ladies! I ordered all of my decor from amazon. It was very reasonably priced and arrived in two days! These hanging hearts were the perfect touch to hang over the food table.  This lace table runner came in a pack of two and was around $10.  No Galentine's Party is complete without balloons! We used two balloon garlands and placed one over my doorway and the other on top of my hutch pictured here! It turned out so pretty!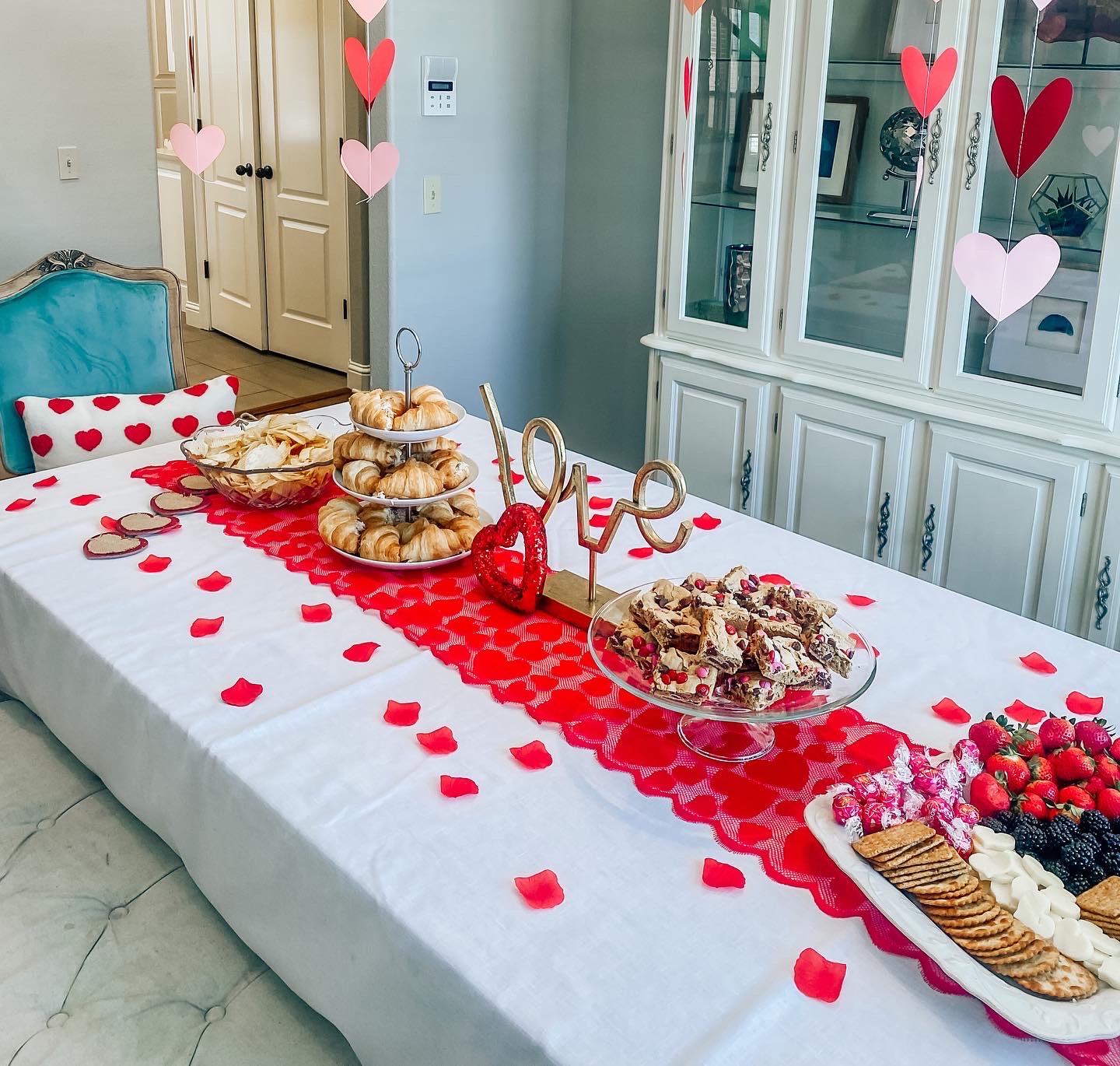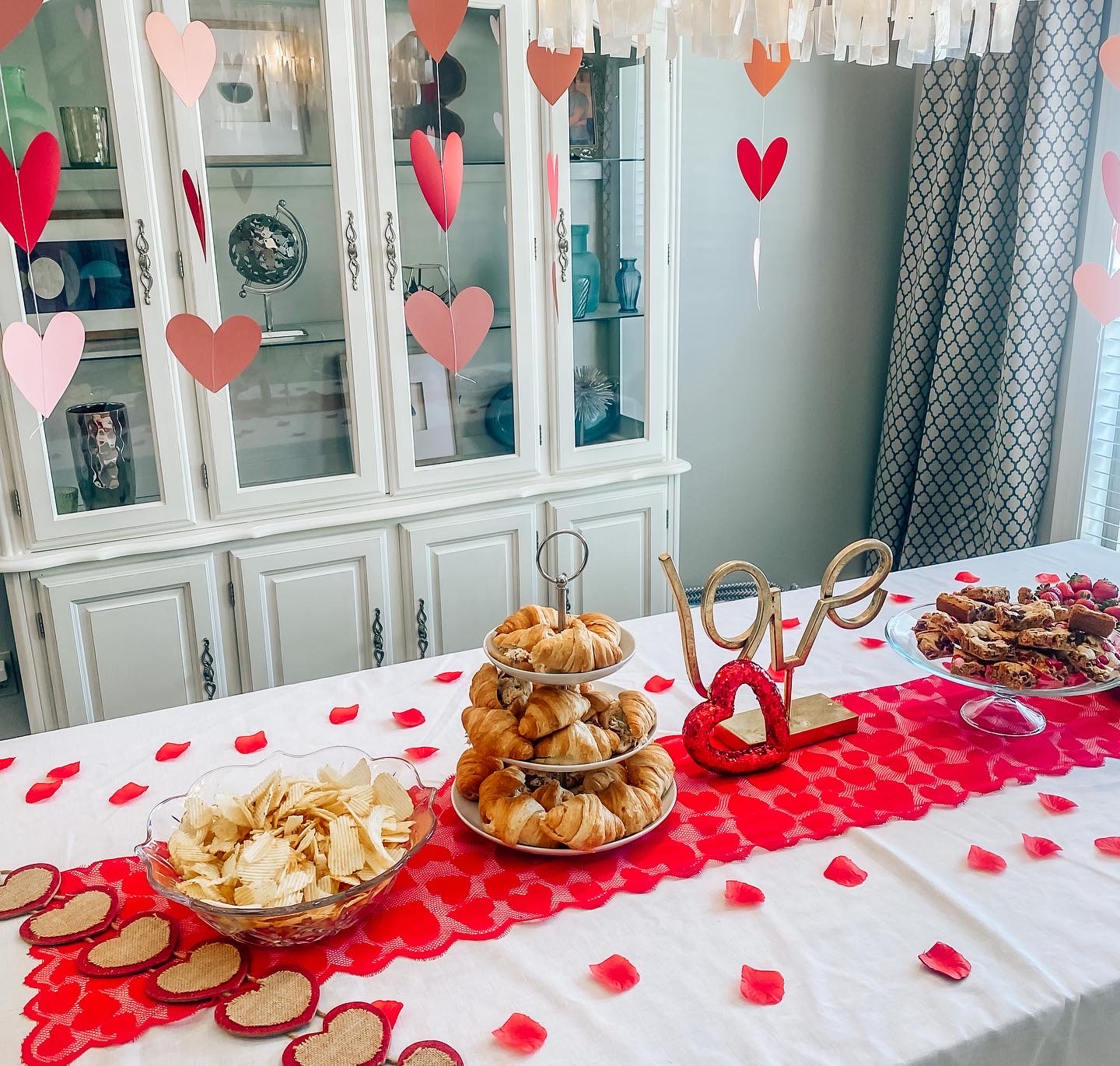 Now let's talk about food!  Ours was a luncheon so we served chicken salad croissants as the main course.  I used a simple recipe of 2 cups of chicken breast, 1/2 cup of mayo, 1/2 cup quartered grapes, 1/4 cup chopped celery, and salt and pepper to taste.  I doubled the recipe and it was plenty (with some leftover) for 10 ladies.  You can also add pecans, but I always worry about nut allergies when I'm serving groups of people!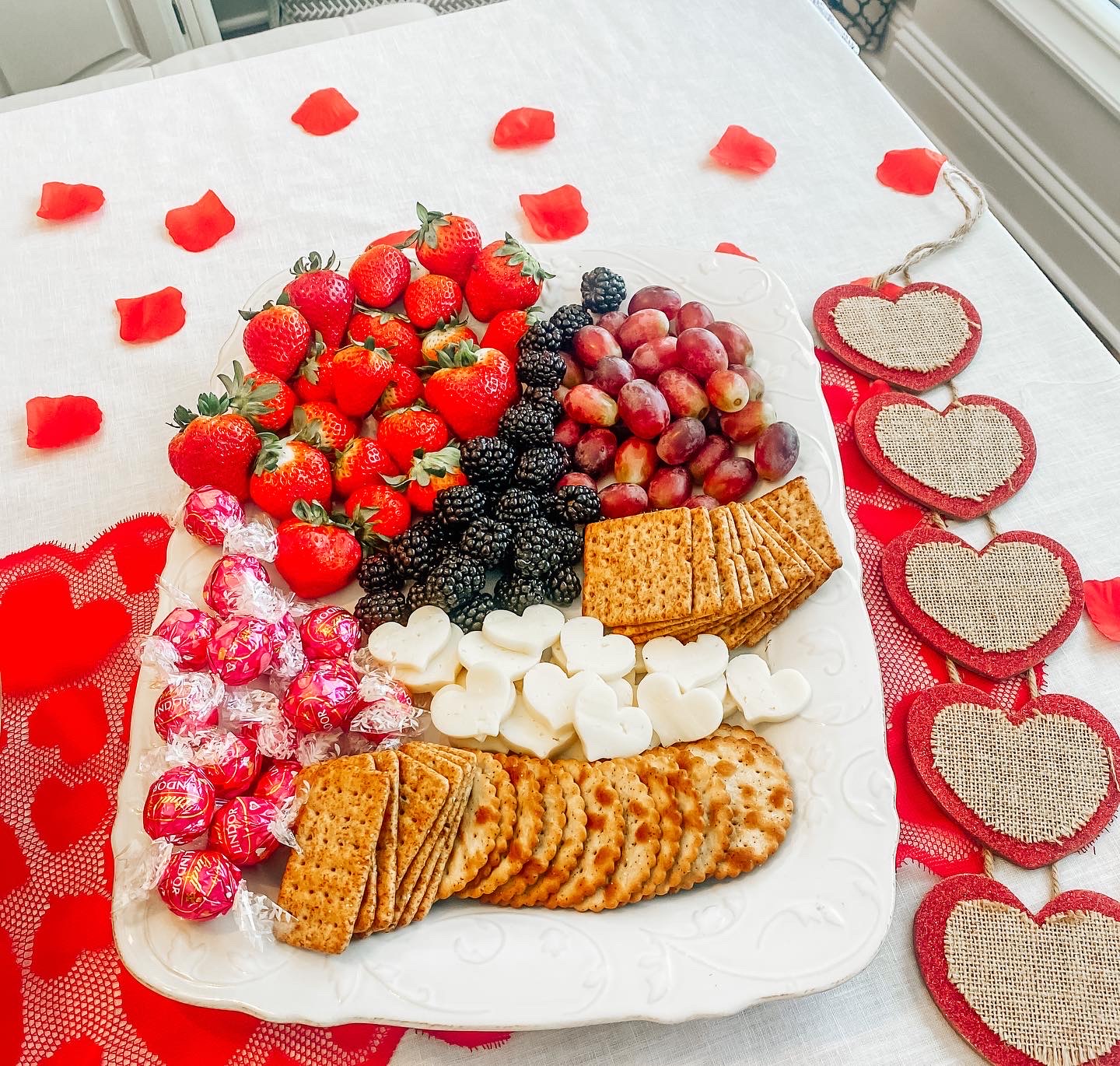 No Party is complete without a charcuterie board in my opinion! They are so pretty and really add to your table scape.  I did strawberries, blackberries, grapes, heart shaped mozzarella, wheat crackers, and of course some chocolate!  I just love how it turned out! This gorgeous white serving platter was the perfect size.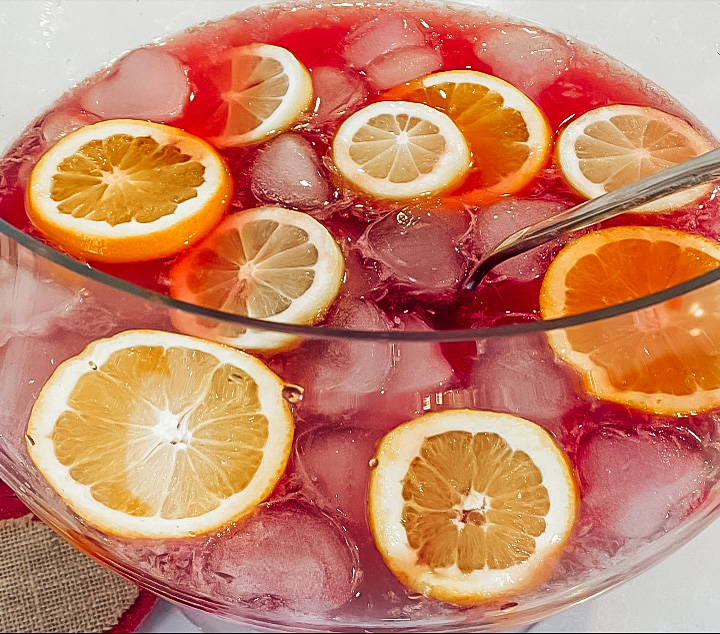 Suzanne made the prettiest, most delicious sparking punch.  Cranberry juice, sparkling water, and orange slices.  The heart shaped ice was an adorable addition!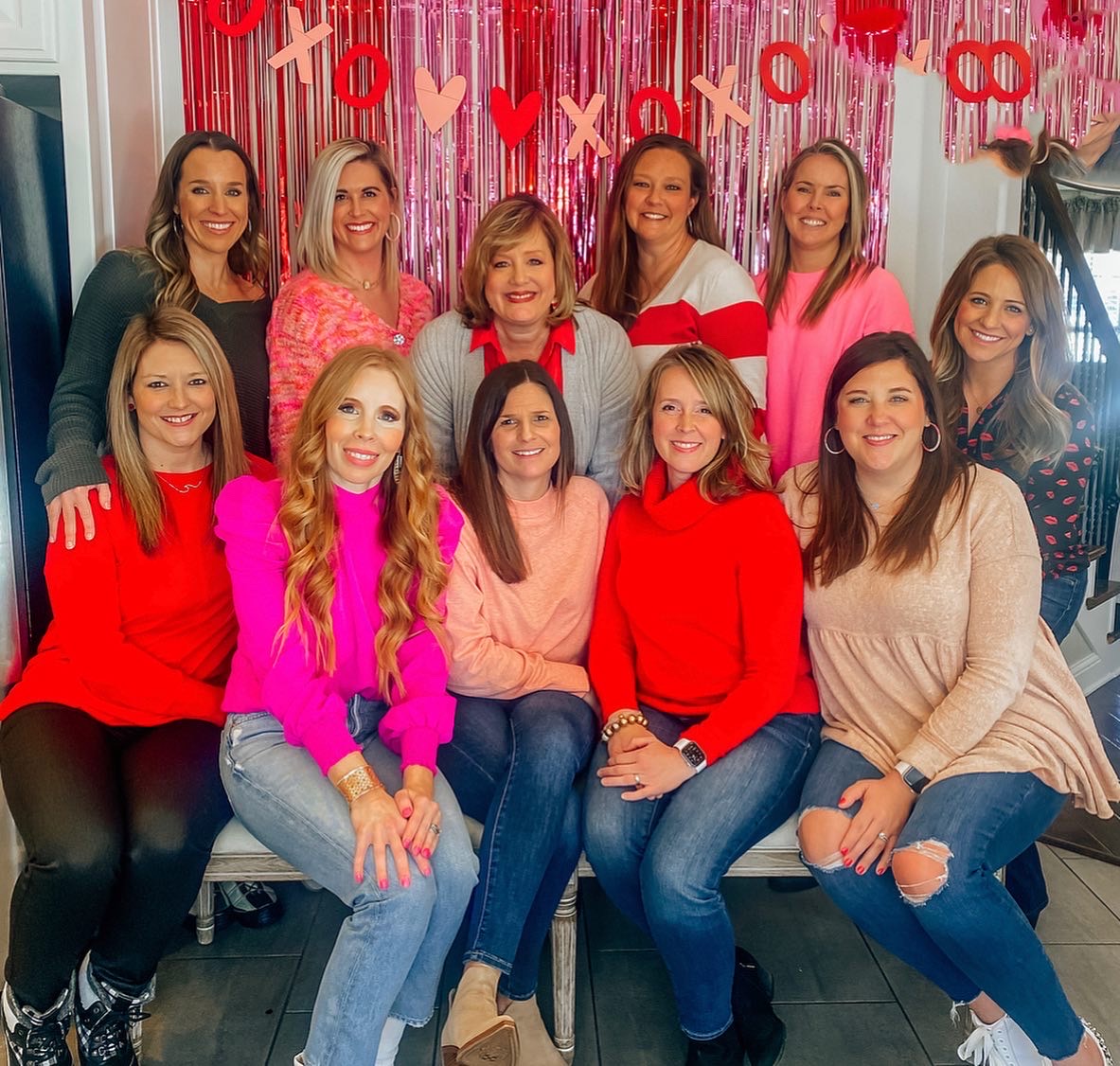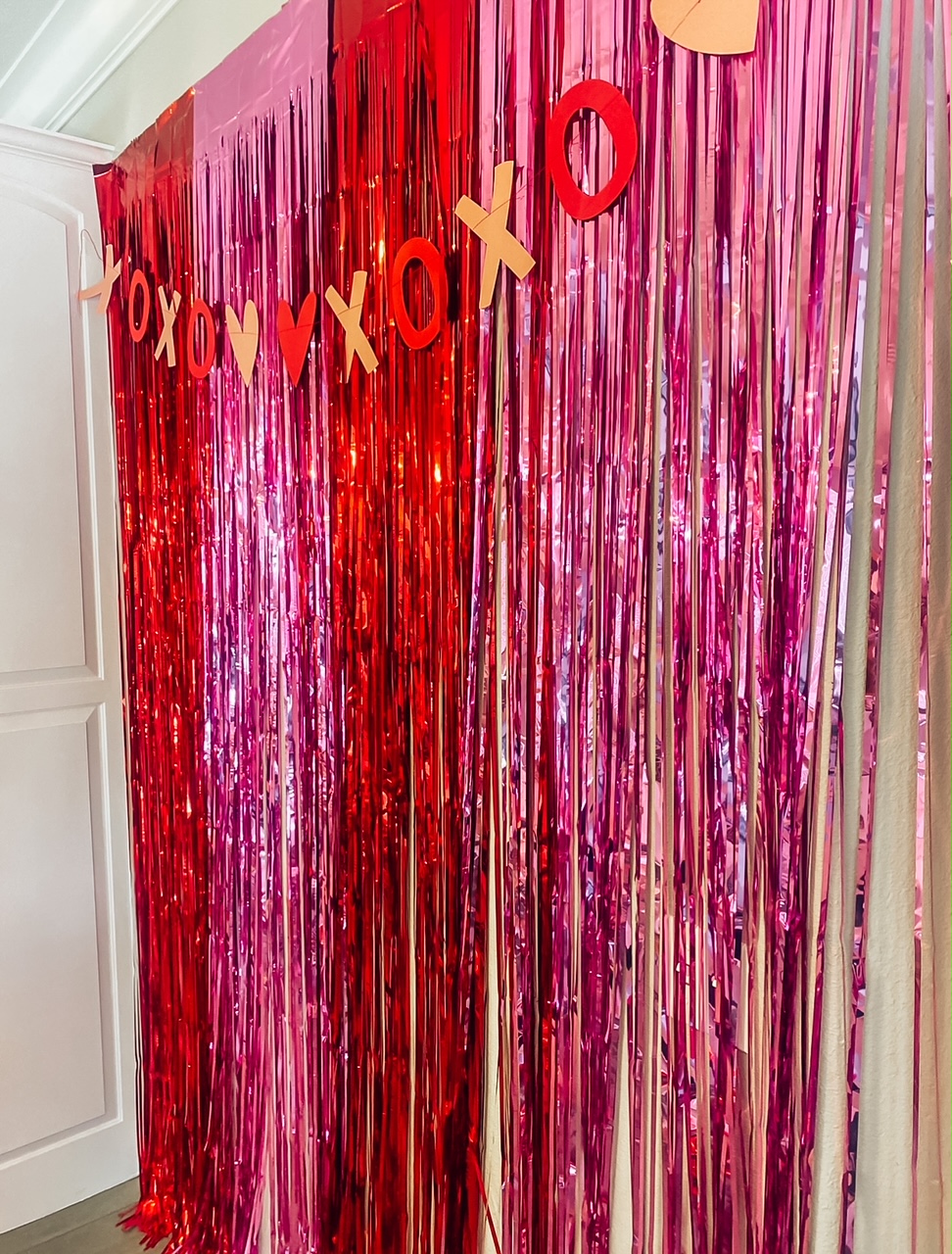 Don't forget about a photo back drop! I should have made mine larger because we barely fit in front of this one! I grabbed this pink and red curtain backdrop from amazon and it was seriously the cutest! It you want it more "dense" to cover the entire wall, I recommend doubling it! And it's always a cute idea for everyone to wear pinks, reds, and white for picture purposes! My pink top has been a top seller and is under $20! It's so cute for Valentine's Day and Spring! I especially love the sleeve details!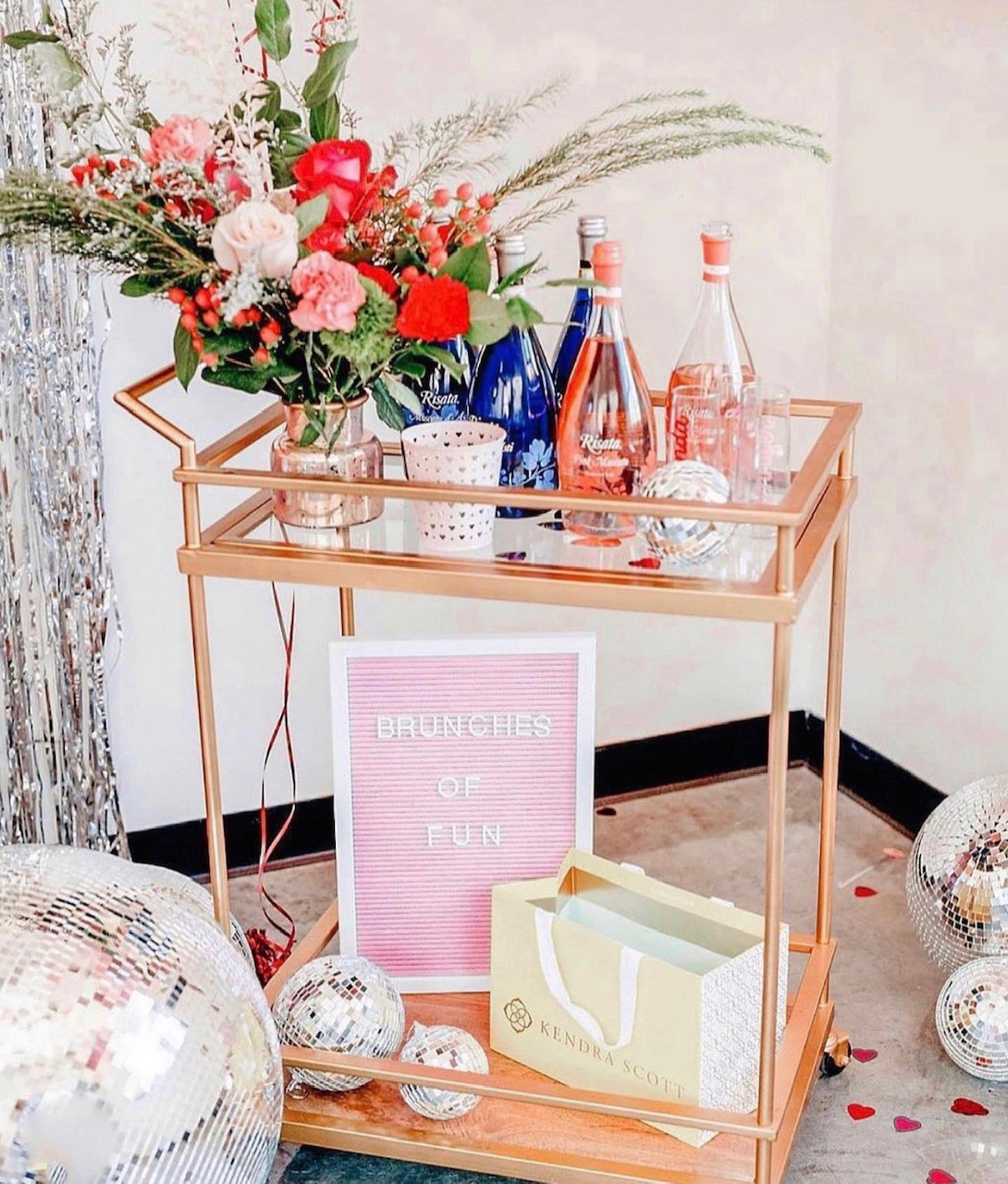 Fresh flowers are always a beautiful addition to any Valentine's Event! I usually grab mine from our local fresh market or Sam's Club.  If you are serving mimosas or champagne, a drink cart is a stylish way to serve them! I've linked everything in the picture here   This Galentine's event was one of the most enjoyable events I've ever hosted! I highly recommend getting some of your girlfriends together and having one.  We also did a "favorite things" gift exchange.  Each person brought something they are currently loving, we drew numbers and exchanged gifts! It was so neat to see what everyone is using and loving!
If you are on the fence about getting your girlfriends together, DO IT!  You'll be so glad you did! You can shop the post below. Thanks for reading friends!
XOXO
Emily